This July, View Crest will send a team to work with a brand new church in Riga, Latvia as they seek to reach their community for Jesus.

Support the Team
Want to be a part of supporting the team? Make a tax-deductible donation here.  Please include the name of the individual you wish to support under "special instructions".  You can always put "whole team" and we'll make sure everybody benefits.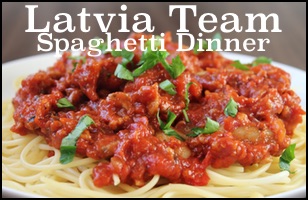 Spaghetti Dinner
Join us June 3rd, from 4:30 to 7:30, at St. David's Episcopal Church in Venetia for a fun-filled, belly-filling evening with our Latvia Mission Team as they raise support to teach this July at a new church in Riga, Latvia.  Dinner will be "open house" style.  Come at anytime.
In addition to the good eating, there will be a Chinese Auction held throughout the evening.
Come one, come all!  Click here for directions.  Tickets are available below or at the door.  (Tickets purchased online will be available at the event.)
Tickets are no longer available as the event has passed.